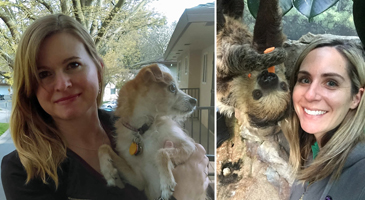 shrader stringer
Photos by Jeffrey Schrader (L) and courtesy of Dr. Betsy Stringer (R)
Left: Wilma, a 16-year-old terrier mix, was bewildered when her owner, Heather Schrader, a veterinary technician, danced with glee upon learning that her student loans were forgiven.
Right: Dr. Betsy Stringer works with a wide variety of species, including the two-toed sloth pictured. As a veterinarian at a nonprofit zoo, she qualified for public service debt forgiveness.
The day that Heather Schrader received official, unambiguous notice that the balance of her student loans had been erased, she stared at her computer for a long moment in disbelief. Then she leapt up and danced around the house, startling her two cats and geriatric terrier.
"I thought about running around outside, but I thought my neighbors would think I was crazy," Schrader recalled with a laugh.
If they knew what she'd done to reach that moment, surely they would have understood. Schrader is one of very few borrowers to have her loans forgiven by the U.S. Department of Education in recognition of public service employment. Up-to-date figures have not been released, but data from earlier periods tell the tale: 8,429 borrowers had achieved loan forgiveness for public service as of April 30, a rate of less than 3% among the hundreds of thousands who have applied.
Joining such a select group required of Schrader understanding and following complicated rules, plus stamina and perseverance — a willingness to chase down archived employment records, to make repeated telephone calls and endure long hold times, to fill out endless forms, and to accept setbacks and apparent rejections without giving up.
In student-debt circles, the Public Service Loan Forgiveness (PSLF) program is notorious for qualifications that are difficult to meet. The first time that potentially eligible borrowers could apply to the program for forgiveness, in the fall of 2017, one veterinary school borrower said, "I kind of feel like we're looking for a unicorn," reflecting the sense that forgiveness was a myth. 
It may be rare, but it's not a myth. The VIN News Service interviewed two borrowers who recently achieved loan forgiveness. One, Schrader, is a veterinary technician who worked for years at the University of California, Davis, and is now employed by the nonprofit Humane Society Veterinary Medical Association. The other is Dr. Betsy Stringer, a zoological medicine specialist at the Denver Zoo, also a nonprofit.
Established under the College Cost Reduction and Access Act of 2007, PSLF offers a financial incentive to federal student-loan borrowers to work for nonprofits or public institutions, both of which usually pay less than the private sector.
The debt forgiveness PSLF offers is distinct from that of other federal programs, such as income-driven repayment plans, in that the period to payoff is relatively short — 10 years — and the forgiven balance is not subject to income tax.
In general, PSLF requires a borrower to have certain loans in a certain type of repayment plan while working for a qualifying employer as a full-time employee for at least 120 months. There are many wrinkles to qualifying, as both Stringer and Schrader discovered on their respective journeys to forgiveness.
In fact, it was only because Congress temporarily broadened the criteria for eligibility that both women qualified this year.
Starting in 2018 and each year since then, lawmakers have budgeted millions of dollars to enable the USDE to extend forgiveness to more borrowers. The original PSLF is accessible only to those enrolled in an income-driven repayment plan (among other criteria). In such plans, a borrower's monthly payment is determined by the size of their income rather than the size of their debt.
The broader forgiveness program, named Temporary Expanded Public Service Loan Forgiveness, or TEPSLF, opens the door to forgiveness to borrowers in four more repayment plans: Graduated Repayment Plan, Extended Repayment Plan, Consolidation Standard Repayment Plan, and Consolidation Graduated Repayment Plan. The expanded eligibility will last as long as the money does; first come, first served. As of now, a sizable sum remains. Since 2018, when Congress budgeted $350 million for the expanded program, lawmakers have added money to the pot each year, to a current total of $800 million, according to a USDE spokesperson. Of that, $130 million has been spoken for, the agency reported in June.
Failing to understand or appreciate the particulars of qualifying can have a profound effect on borrowers' financial lives. The detail about qualifying repayment plans is just one of many.
Three applications and two rejections in 22 months
Fortunately for Schrader, her days were consumed with the complicated program rules for a relatively short, if intense, time. She did not even know about PSLF until 2017, when she attended a webinar about student debt hosted by her employer, the HSVMA.
By then, Schrader had been a registered veterinary technician for 15 years, in California. The educational debt she was paying was incurred from an online master's degree program in criminal justice at Boston University that she completed in 2009.
Expert: Achieving PSLF will become more common
She was motivated to study criminal justice while at an emergency clinic in the Sierra Nevada foothills northeast of Sacramento, where she usually worked the graveyard shift. "I saw a lot of suspected abuse and neglect cases come in, and no one I worked with really knew what to do with those," she said. "It was really frustrating for me."
From the two-year master's program, Schrader accrued just over $32,000 in debt. Upon graduation, she was making $45,000 a year working at the UC Davis veterinary hospital's Companion Exotic Animal Medicine & Surgery Service, helping to care for reptiles, birds, rabbits, guinea pigs and the like.
She could not afford the default timeline for settling the debt, which required paying it off in 10 years.
"My first bill was $369.74," Schrader, a meticulous record-keeper, recounted. "… That was an incredible chunk of money for me. I remember calling [the loan servicer] and getting the payment lowered and of course, that was going to set me back the amount of years I was going to pay it off, but I didn't have any choice." She also deferred payments for a few months early on.
Her loan servicer said the route to the lowest monthly payment for Schrader was the Graduated Repayment Plan, under which payments start low and rise every two years for up to 30 years, depending on the size of the debt. So that's the plan Schrader used until she learned about PSLF. By then, she had worked at UC Davis — a public institution — off and on for 12 years cumulatively, starting in 1999.
Schrader set out to document the dates she'd been in public service. The task was arduous. Because she hadn't worked at the university continuously, some of the time wasn't reflected on her official employment certification, and she'd discarded old employment paperwork. She needed exact start and end dates — not just the year, but the day and month.
The university "sent me to some office where I had to physically go and put in a request to look in the archives for my previous employment history," Schrader recounted.
When she obtained the documentation she needed at last, Schrader prepared to apply for PSLF. She had the requisite years of the right type of employment. But that wasn't enough. She was told that her payments didn't qualify because she was in a Graduated Repayment Plan rather than an income-driven plan.
Schrader went cold. "I was devastated," she remembered.
Devastated but not defeated. Schrader began the process of switching to an income-based repayment program, figuring it would take 10 years to reach forgiveness — still worth the effort, she judged, because her loan balance remained high, due to her relatively small monthly payments and an interest rate of 6.8%. (The payment size varied over time but had been as low as $190). Plus, Schrader was still working for a qualifying employer — a nonprofit group.
Then TEPSLF came along. Suddenly, her past payments counted.
Even still, the path to forgiveness wasn't a straight shot. In order to qualify for TEPSLF, borrowers must apply to PSLF and be rejected. That is part of the process. Then they wait.
Following her first application to TEPSLF in June 2020, Schrader was denied — she hadn't accounted for the months she deferred loan payments, meaning those months didn't count toward the requisite 120. "So I basically had to wait until they told me that I was going to qualify," she said, adding, "They were very nice about it."
All told, Schrader formally applied for forgiveness three times in 22 months. The last time was in February. She submitted the form, crossed her fingers and told herself to be patient. "I made myself forget about it because I didn't want to sit on the edge of my seat for so long," she said.
In late May, she received a cryptic email with a chart showing all the payments she'd made that qualified for PSLF — which was very few, since she'd only recently switched to income-based repayment. She had no idea what the point of the message was. "They would send me random information a lot, about which payments qualified and which didn't, that were very hard to understand."
Schrader logged into her online account and found a listing of her four loans (two for each of the years she was in the graduate program). Each loan had an encouraging notation: "Congratulations, you've made the qualifying 120 payments," accompanied by an icon of a golden trophy.

But Schrader was afraid to believe the news was good. "I'd gotten my hopes up so many times. When I got that letter, I was like, 'Ugh, I don't know what this means.' "
She called the loan servicer and spoke with a pleasant agent who told her that yes, she qualified for forgiveness, and soon she would receive official notification.
Even then, Schrader wasn't ready to celebrate. "I let myself have a little hope, but I wasn't going to believe it until I had the [official] letter. It had taken so much at that point — so much paperwork and so much time passed. I didn't want to feel any type of hope whatsoever."
About a week later, on June 5, Schrader received an email notification that she had mail in the inbox of her online loan account. There, she found a letter from FedLoan Servicing and the U.S. Department of Education, stating, "Some or all of your loans have been forgiven under TEPSLF." The letter showed all four of her loans having outstanding balances of zero.
That was when Schrader danced in her living room while her pets looked on, mystified.
The forgiven sums total nearly $23,000. Schrader and her husband are planning a celebratory trip to Hawaii in October, the COVID-19 pandemic allowing.
Being freed from monthly payments of $625 — they went up after she got married in 2018 — will enable her to save for a bathroom remodeling project in the house where she's lived for 20 years. And maybe update her wheels — her car is 20 years old, too.
Her plans are "not anything crazy," Schrader said, "just life things that before, I could dream about but didn't think were going to happen any time soon."
'You have to continue to push through'
Dr. Betsy Stringer's odyssey to reach loan forgiveness was similarly complicated. Stringer graduated from veterinary school at the University of Minnesota in 2005 with $136,000 in school debt. Like Schrader, she wanted to keep her loan payments to a minimum, so she went on the Graduated Repayment Plan.
"I knew I had to do an internship and residency training, and you know, interns and residents don't get paid very well," Stringer explained.
At that time, PSLF didn't even exist, so it did not influence her choice of specialties. "I have always wanted to be a zoo veterinarian," Stringer said.
But she recognizes that the promise of loan forgiveness may affect others' career decisions. "It certainly does factor into people's choice of where they work, knowing that nonprofits don't pay as well," she said. " … Zoo vets who work at nonprofit zoos are often the lowest paid veterinary specialists."
Board-certified zoo veterinarians often earn less than six figures, she said — or about half what many specialists make in private practice.
During five years of postgraduate training, Stringer said she sometimes went into loan forbearance in order to pause making payments because her income was so low.
In 2012, she began working at the Denver Zoo. About the same time, she learned about PSLF and income-driven repayment plans and set about working toward forgiveness. "I knew I had 10 years until my loans would be forgiven," Stringer said. "I was on track for that, doing my annual employment certification and getting my payments slowly built up."
Last winter, she learned from a fellow zoo veterinarian about TEPSLF. "Oh wow," she thought. "Maybe the payments I made during my internship and residency will also count."
They did. In mid-July, FedLoan Servicing notified her that she had met the requirement for 120 or more qualified payments, and forgiveness was forthcoming. Stringer was optimistic but, like Schrader, felt guarded.
She, too, had encountered many hitches along the way. For example, her loans had been transferred to different servicers three times since 2005, creating confusion in her payment record. "When I initially applied to TEPSLF, FedLoan couldn't see my earlier payments," Stringer recalled. "… So they asked me to submit my bank records from 2005 to 2012 to prove I'd made those payments. I contacted my bank and they said, 'We don't keep records beyond seven years.' It took a long time for the Department of Education to locate those payments."
For anyone pursuing public service loan forgiveness, persistence is essential, she said. "If you stop advocating for yourself, that will be detrimental."
Periodically, she'd receive bewildering letters (like this one) that read like rejections. "It's challenging, for sure," Stringer said. "There are so many people confused by the program. FedLoan Servicing certainly gets a lot of calls, and you can be on hold for a long time. You have to continue to push through."
She also found helpful information from the Facebook group Public Service Loan Forgiveness Program Support. 
Once the FedLoan agent told her approval was imminent, Stringer took to checking her online account daily through an app on her phone.
Two weeks ago, while reflexively checking the account, she was stunned to find the all-important letter.

"I started crying and could barely speak as I was trying to tell my partner, Matt, that I thought my loans had been forgiven," she reported. "… We immediately went to brunch and had mimosas!"
The forgiven amount is just shy of $75,000. Liberated from $624 in monthly payments, Stringer has thought about buying a house, but not right away. "No immediate plans with so much uncertainty in the world right now," she said.
Nevertheless, she said, "It's definitely a huge relief on my budget and a weight off my mind!"
VIN News Service commentaries are opinion pieces presenting insights, personal experiences and/or perspectives on topical issues by members of the veterinary community. To submit a commentary for consideration, email news@vin.com.
[ad_2]

Originally Appeared Here